A WHRU is traditionally constructed with a 'Serpentine' tube bundle, where straight tubes are arranged in rows and connected by 180o return bends which sit outside the gas stream:

This method of tube bundle construction introduces many mechanisms for tube failure. The action of forming the tube into a tight return bend induces stress cracks within the material, greatly increasing the chances of a tube leak. There are some 80% more welds in a serpentine bundle, every weld is a potential point of failure and the return bends. To compound the issue, most manufacturers of serpentine bundles only carry out radiography on 10% of the pressure part butt-welds. CF Struthers carry out radiography on 100% of all pressure part butt-welds.
Serpentine bundles have an 'effective length' where because of the return bends, not all the tube length is located within the gas stream, meaning less efficient use of the piping and a heavier, larger bundle compared to a helical coil.


Packaging: Traditional WHRUs are typically designed with an external bypass which is requires large inlet and outlet transition casings to connect the bypass and coil ducts together, adding size and weight to the WHRU. A complex multi-louvre damper is then required to control the gas flow direction, the link arm system can be troublesome to set up and maintain.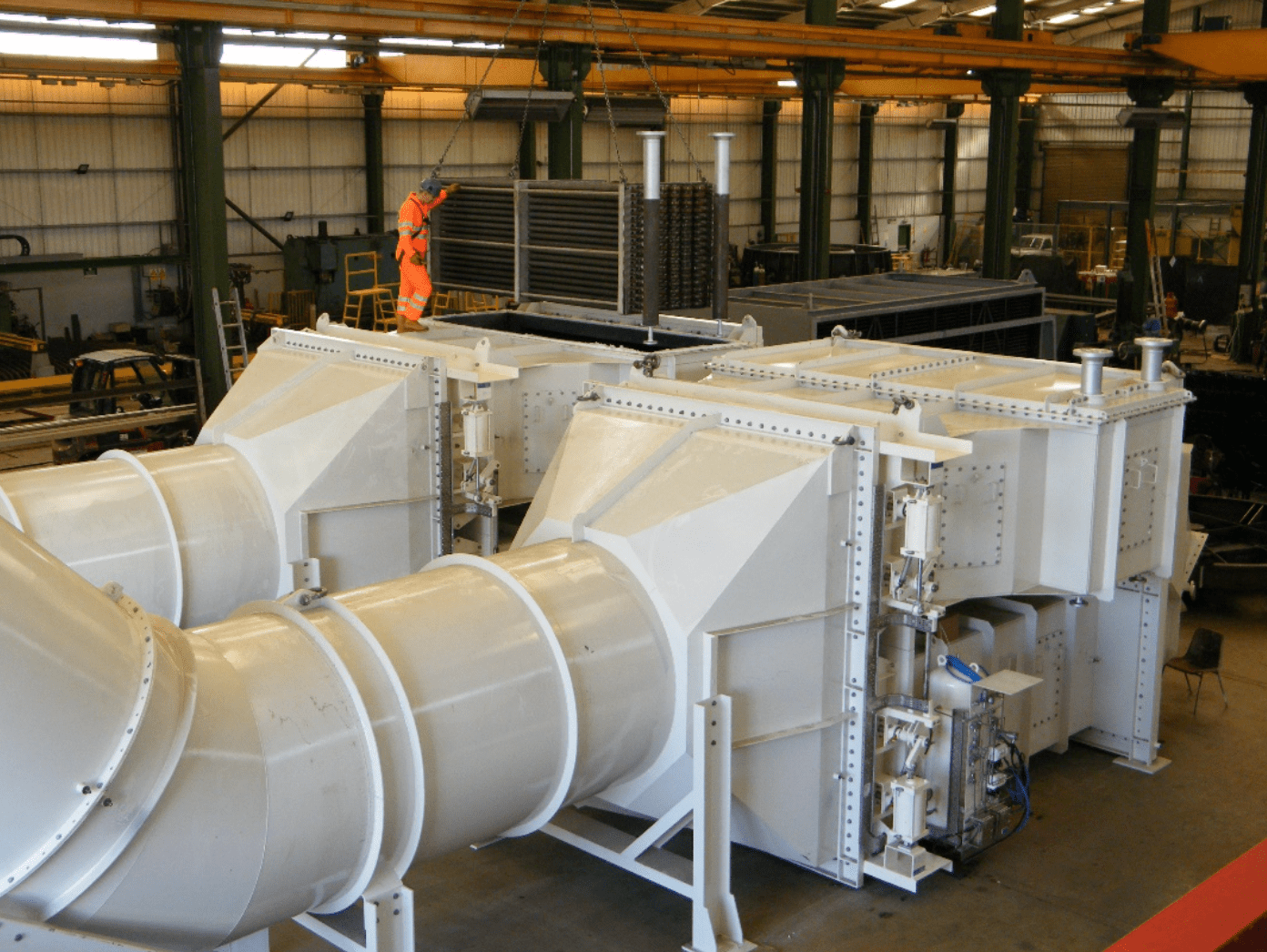 The Circular WHRU (CWHRU) is a significant advancement in WHRU technology, combining our in-house developed and Patented Contra-wound Helical Coil Manufacturing Process with our Patented Integral Radial Vane Bypass Damper. The resulting Circular WHRU offers a 30% weight reduction and up to a 70% footprint reduction when compared to a Traditional WHRU:
The design of the helical coil eliminates the need for return bends, hence the entire length of the tubing is located within the gas stream. There are no tight radius return bends and each tubing pass can be manufactured from 20m lengths meaning that the potential for tube and weld failure is dramatically reduced:

The design of our circular radial vane bypass damper means that the pivot shafts only span half of the WHRU diameter, they are also supported half way along the shaft. This short span and intermediate support means that the damper mechanism can be built of a lightweight construction which places much less stress on bearings and actuators. This damper design does not suffer from the sagging which can occur with the large span multi louvre traditional dampers during operation.